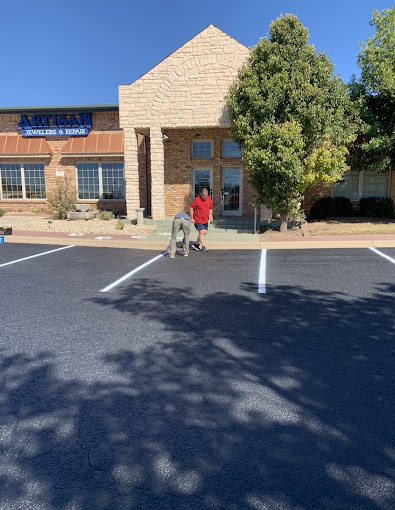 At Action Seal and Stripe, our parking lot maintenance services help keep your parking lot looking great year after year. Our maintenance services include things like sealing, striping, and more. Sealing Is like maintenance and cosmetics for your lot. The sealant protects the surface of the parking lot so it lasts longer. Your lot likely needs to be sealed every 3-5 years. The cost to maintain your parking lot is far less than the cost to build or overlay a parking lot, so taking steps to maintain your parking lot helps you save money in the long run. We recommend these services so you can avoid having to buy a new parking lot or overlay.
Action Seal and Stripe offers striping services. Striping is the painting of the lines in your parking lot as well as ADA regulations, fire zones, arrows, specialty parking spots, and more. We handle the striping of all lots. Whether your parking lot is new, newly overlaid, or newly sealed, every lot needs stripes to maintain direction and safety. We can stripe older lots that need new paint. We stripe:
Lines

Arrows

Logos

Special markings for parking lots like handicapped, expecting mothers, veterans, purple hearts, etc.
 Our striping also includes the signs for things like handicapped vehicles, expecting mothers, no parking, etc. We also put in car bumpers so people do not drive through spots into stores or other cars.